The Reverend Dr. Sun Myung Moon and Dr. Hak Ja Han Moon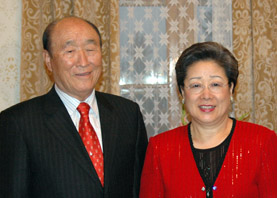 The Reverend Sun Myung Moon and his wife, Dr. Hak Ja Han Moon (Introduction of Dr. Hak Ja Han Moon), known affectionately as Father and Mother Moon, lead a movement active in 190 nations, with foundations and enterprises encompassing the realms of religion, academia, the arts, media, sports, agriculture, technology, ocean enterprises, and more.
Sun Myung Moon was born a farmer's son on January 6, 1920, in what is now North Korea. On Easter Sunday, 1935, he had a life-changing spiritual encounter with Jesus, who asked him to work for the establishment of God's kingdom on earth. He began his public ministry in 1945. After being imprisoned in a North Korean death camp for three years, he was liberated by U.N. forces in 1950.
Responding once again to the call of God, Rev. Moon came to the United States in 1971, where he began a series of national revival tours, a tradition that has continued to this day. In 1990, he fulfilled a pledge that one day he would go to Moscow. There he met with President Mikhail Gorbachev and urged the Russian people to turn back to God. The following year, he made his first visit in 40 years to Pyongyang, embracing the leaders who had been his persecutors and seeking ways to bridge the gap between the two Koreas.
Today Rev. and Mrs. Moon are proposing a revitalized, renewed United Nations with the help of the newly-established Universal Peace Federation (UPF), with more than 50,000 diplomats, clergy, civic leaders, current and former heads of state appointed as Ambassadors for Peace.
Among the prominent current initiatives of the UPF is the Middle East Peace Initiative. Thousands of religious leaders have journeyed to Israel and Palestine to urge the children of Abraham to unite in peace. UPF has also been active in disaster relief after Hurricane Katrina.
It is fighting against the spread of AIDS and encouraging youth to work for peace through sports and community service.
The heart and soul of Rev. and Mrs. Moon's lifelong ministry is the re-establishment of God's ideal of the family as the foundation for harmonious societies and the cornerstone of world peace. The Marriage Blessing movement, beginning with three couples in 1960, has reached millions of couples.
Dr. Hak Ja Han Moon is also a daughter of North Korea. She was married to the Rev. Sun Myung Moon in 1960, and they have fourteen children. An internationally noted peace activist, Dr. Moon has spoken at the United Nations and the Kremlin Palace in Moscow and the Great Hall of the People in Beijing, and has been awarded a number of honorary degrees for her peace and humanitarian work.
Hyun Jin Moon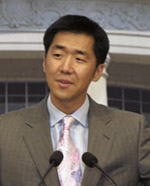 Hyun Jin Moon was born in Korea on May 25. 1969 and has lived in the United States since 1973. He graduated from Columbia University in 1995 with honors, and holds an MBA from Harvard Business School, a Masters in Religious Education from Unification Theological Seminary and an honorary doctoral degree from Sun Moon University.
He participated in the Seoul and Barcelona Olympics as a member of the Korean Equestrian Team. He was appointed as International Vice-President of Family Federation for World Peace and Unification (FFWPU) in 1998, President of the World CARP student association in 2000 and more recently President of Youth Federation for World Peace in 2006. He was married in 1987 to Jun Sook Kwak and they now have eight children.
Hyo Jin Moon
Born in 1962 in Korea, Hyo Jin is the eldest son of Reverend and Mrs. Sun Myung Moon. During his tenure as President of the World Collegiate Association for the Research of Principles (CARP), he memorably led thousands of students to protest at the Berlin Wall in 1987. A passionate musician, performer and producer, Hyo Jin has recorded over a dozen albums, produced several documentaries, and has created a music catalog of over 1,000 of his own songs. He serves as Chairman of the Board of Directors of Manhattan Center Productions, and he founded MC Korea and MC Japan. He and his wife, Yeon Ah Choi, and their family live in upstate New York.
Kook Jin Moon
Kook Jin was the last of the Moon's children to be born in Korea, on June 14, 1970, and he came with his family to the United States in 1973. After attending school in Westchester, NY, he studied at Vassar, the University of Miami and at Harvard. He is the President of Saeilo Enterprises, Inc., and CEO-elect of the Unification Foundation in Korea. He also serves as Chairman of the Young Jin Moon Charitable Foundation which provides educational scholarships for seminary students and supports a number of non-profit enterprises. He is married to Ji Hye Park, and has two daughters, Shin Ah and Shin Nae.
Yeon Jin Moon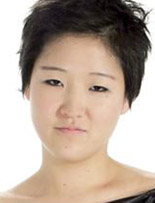 Yeon Jin is a graduate of New York University with a bachelor's degree in broadcast journalism and economics. Born in 1981 in New York, Yeon Jin is the twelfth child of the Rev. and Mrs. Sun Myung Moon.
Chung Hwan Kwak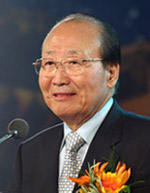 Rev. Dr. Chung Hwan Kwak is Chairman of the Universal Peace Federation and the Family Federation For World Peace, and also serves as Chairman of the Board for the University of Bridgeport. He is well known in the soccer world as Chairman of six-time Korean champions Songnam Ilhwa, for his leadership of the Peace Cup and currently serves as President of the Korean Professional Football League. First and foremost a dedicated religious leader and leading representative of Rev. Moon, Dr. Kwak completed his B.S. in Law and an M.A. in Western Philosophy, and has received a number of honorary doctorates throughout his long and distinguished career.