Nigeria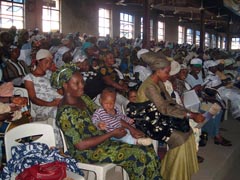 Peace Tour IV has reached Nigeria on the grand scale, with more than 8,000 people attending rallies across the country. The principal event was at Agege City Rally in Lagos State, with over 2,700 participants at the CAC Agbala Itura, Agege.
The Ambassador for Peace that delivered Rev. Moon's Peace Message was Rev. Cabbagestalk, and he spoke wonderfully, and remarked that the entire congregation was prepared for the Peace Blessing. He promised that he would return back to Nigeria, saying "because of my experience in the CAC church in Nigeria, I am overwhelmed by the turn out of the people, and I will like to return back to set up churches in Nigeria".
The summary of attendance in other cities was as follows:
1. Christ Apostolic Church, Ikeja had 629 participants
2. Cherubim and Seraphim Church, Surulere had attendance of 2, 126
3. Church of the Lord, Abeokuta had attendance of 425
4. Christ Liberty Evangelical Mission, Akure rally attracted 607 participants
5. In Jalingo, Taraba State, a total of 563 VIPs attended the program
6. In Lafia, Nasarawa State, there were 634 VIPs in attendance
7. In Port Harcourt, Rivers State, the State University of Science and Tech hosted 350 VIPs.