Lebanon
David Fraser Harris
November 15, 2006
After almost being passed by on the 4th tour, the Middle East was fortunate enough to be able to receive a special delegation of 22 peace ambassadors who flew directly from the United States and in most cases returned there after 3 days in Lebanon. In the wake of the recent war, it really was a special blessing that Lebanon could receive such a delegation. The delegation included 2 bishops, 7 Christian pastors, and 3 imams.
Teamwork
UPF's secretary general in Lebanon, Thomas Schellen, proposed that, instead of asking individual peace ambassadors to probe uncharted terrain, we form pairs or groups of peace ambassadors who would travel together for a day, conducting several events together. This proved a highly successful approach, building bonds between international APs as well as between them and local Lebanese APs and Japanese and European staff.
Local peace ambassador support was vital. An excellent example of this was the dedicated contribution of Sahar Masri, daughter of a leading Druze leader who himself hosted one of the largest events. Sahar took several days off work to help us organize the logistics, in particular travel arrangements for 9 peace ambassador teams who needed to conduct events in various parts of the country. In addition, we were blessed with precious help from Japanese and European FFWPU members.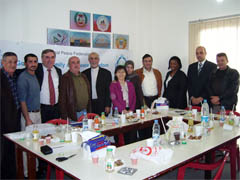 One team meets trade union leaders at the city hall of a town in southern Lebanon
Variety
Perhaps the most exciting aspect of this series of events was the great variety of venues and groups visited. Religious groups visited included Druze, Sunni and Shia Muslim, Armenian Catholic, Maronite and Orthodox. Venues included family homes, schools, churches, mosques, orphanages, city halls, the parliament, monasteries and universities, as well as the offices of Amnesty International, UPI and one newspaper. In two days we completed 36 such visits.
The third day was set aside for a visit to other parts of Lebanon, beginning with Sidon (Saida) and moving on to the Imam Sadr Foundation, a Shia Muslim foundation which runs an orphanage for 1150 orphans, 8 hospitals in southern Lebanon and 2 mobile clinics. Discussions with the foundation's leaders revealed deep compassion and a strong sense (from Imam Sadr himself, as quoted by his sister) that "before we are anything else we are all human" and that our "dignity comes from God". We proceeded to visit the ruins of ancient Tyre (Sur), before returning to Beirut, where we visited the Dahia area which had been heavily bombed during this summer's war.
Reflections
Many delegates were struck by their experience in Lebanon. Some mentioned the strong family ties they had found. One wrote: "the real success was when we visited the families…If you truly want to know about Lebanon, go and visit the families." In another case, a family told of how their father, during the civil war, had taken in another family whose colleagues had fired on his own family just 2 years earlier. One Maronite priest prayed with us at the end of our visit, comparing it to the visit of the 3 guests to Abraham. One Muslim delegate wrote the following in his report to the Muslim leadership in Michigan:
The strong message of UPF is the God-centered global vision promoting nonviolent action that builds foundation for peace through strong, loving families and communities that live for the sake of others. The message is middle ground rooted neither totally in religion nor secular to create a broad based coalition that differentiates itself from extreme religious/sectarian positions to establish a global culture of peace.
This is just one of those things we ought to be involved in as our interfaith effort to build inclusive and diverse communities. I accepted the invitation on that basis. Muslim presence/participation is essential as steward of Allah (SWT). At the least, Muslims must try to support those who have taken the lead
True Ambassadors for Peace
Earlier on I wrote that "in most cases" the US delegates returned to the US. Two, however, did not. Imam Ceesay, who had only just come into contact with UPF prior to coming to Lebanon, agreed to rearrange all his affairs and travel onto Malaysia to join the tour there. Rev Kuffour, when I passed the phone to him on the bus coming back from Tyre, greeted Rev Flynn, who was calling from the States. The remainder of his conversation went like this: "Where?...... Malaysia?...... OK" Such is the dedication of these men and women to peace!