Korea: U. S. Religious Leaders Urge Washington to Send Envoy to Pyongyang for direct Talks
October 27, 2006
Yonhap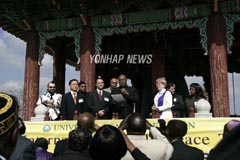 Catholic Archbishop George Augustus Stallings from the United States reads the statement at Imjingak on Oct. 27. (Courtesy of Universal Peace Federation)


A group of 120 U. S. religious leaders issued a joint statement urging Washington to send a presidential envoy to Pyongyang and start direct dialogue during their trip to the inter-Korean border area on Friday.

"We must treat North Korea with dignity," the Catholic, Muslim and Jewish leaders said in the statement at Imjingak, a tourist pavilion near the demilitarized zone.

"We also support the presidential appointment of a special envoy to North Korea who will enjoy the full authority and confidence of the president to [build] trust and understanding between our two very different nations and political systems," the statement said.

The religious leaders were on a five-day trip to South Korea that ends Sunday at the invitation of the Universal Peace Federation, a religious network founded by Rev. Moon Sun-myung in South Korea that now has branches worldwide. The federation has called for engagement with North Korea and continued its North Korea business, including Pyonghwa Motors, the first-ever car assembly factory in the North, despite international condemnation of the North's nuclear bomb test earlier this month.

"We as Americans believe that the real message that needs to come out from America at this time is a message of respect for all nations and a spirit of faith and service to all humanity," Archbishop George Augustus Stallings, founder of the Washington-based African American Catholic Congregation, said.