India
November 29, 2006
UPF India
With less than 24 hours notice, Pundit Amar Nath Gupta's life changed. He did something many people only dream about as children—he toured the world!
But he was not alone and it was not a vacation.
Pundit Gupta joined 120 other Peace Ambassadors and religious leaders from the United States who responded to Dr. Sun Myung Moon's urgent call to travel to 120 nations throughout the world. Their mission was to initiate a 120-city tour in each nation they visited and their message was to share Dr. Moon's vision for world peace, based on building families centered on true love where God yearns to live.
Four Ambassadors for Peace came to India and 27 programs were conducted in 7 days, averaging 3.8 programs per day. Religious leaders from all faiths, school principals, university presidents, students, devotees, businessmen, Members of Parliament and Cabinet Members… in all nearly 6,000 people attended these programs. (A complete list of all the programs is attached.) In addition, sixty-three new Peace Ambassadors were inducted into this club, which now numbers over a million.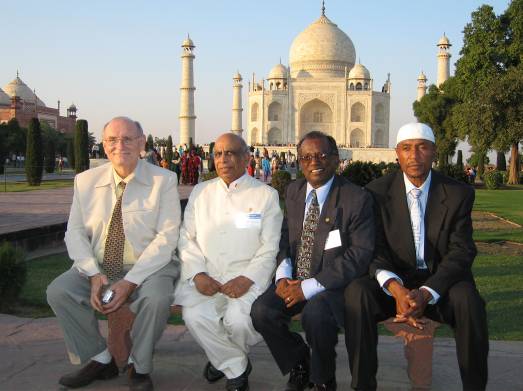 Four American Peace Ambassadors who came to India (From left to right) : Mr. Gary Spanovich,.Pundit Amar Nath Gupta, Rev. Sam Masilamoney, and Imam Marzuq Abdul Jaami

In India, however, this was more than a speaking tour; the Chairman of the Universal Peace Federation of India (UPF-India), Dr. L.M. Singhvi, asked us to use the resources of this institution to address the growing issue of HIV/AIDS. According to the United Nations, India has the most number of people in the world living with the human immunodeficiency virus (HIV).

UPF-India took a novel approach to HIV/AIDS prevention education. We combined the teachings of Mahatma Gandhi, the father of modern India, with quotations from the holy books of all the world's religions. The uniformity of the messages found in these sacred scriptures was very substantial and very powerful. They all warned that human sexuality outside marriage would be harmful, dangerous and even deadly. As the same time, the religions of the world unanimously affirmed the holiness and sanctity of the conjugal union of a man and women in marriage.

The Indian government has adopted the ABC model of prevention and control of HIV/AIDS; however, there is a strong emphasis on "C," with stands for condoms used correctly and consistently. UPF-India, on the other hand, focuses on "A," abstinence, and "B," being faithful, as its primary educational objectives. "A" and "B" are already found in the culture of India. During childhood and youth, one is expected to lead a life of moral restraint called a Brahmacharya. After this, a man gets married, settles down in life, is faithful to his wife, and raises children; a stage in life called Grihastha. In essence, this "A," "B" approach is rooted in the traditional values of the Indian family and is already taught in all religions. This is important because India is a multi-religious society.

A few of the 27 events programs seemed to standout. The first was the Delhi Public School in R.K. Puram. The Principal, Dr. (Mrs.) Shayama Chona is a recipient of the Padma Bhushan for her work as an educationist, especially with handicapped children. This award is one of the highest civilian awards given by the Government of India to recognize exceptional contributions to society, On the Principal's door reads a sign, "I love work! It gives me something to do between weekends." In her office after the program Mrs. Chona said she would like to travel on the next world peace tour.

In the evening on the following day, the Ambassadors for Peace were treated to some of the best classical dance in India at the Ganesa Natyalaya Dance School of Mrs. Saroja Vaiyanathan. Here one of India's most famous classical dancers, Mrs. Shovana Narayan, (in an orange sari below) received the Ambassador for Peace award.

Next was a trip to Agra, the city of the Taj Mahal. A joint program with Respect Age International formed a new alliance with the Universal Peace Federation of India. At St. Andrew's Senior Secondary School, 460 students, teachers and staff welcomed the four American Ambassadors for Peace. This was the largest audience in northern India.

Later in the day, we visited the famous Taj Mahal, and following this, inaugurated an art exhibition on world peace before catching the train for a three-hour ride back to India's capital city, New Delhi.

Another highlight of this Fourth World PeaceTour in India was the program at Amity University. To put this in perspective, Amity is like one of the Ivy League universities in America. This was the first time UPF-India held an event with Amity, and naturally the Founder / President, Dr. Ashok Chauhan, was a bit apprehensive. But the program entitled, "The Role of the Family in the Success of Children," was an overwhelming success.

Dr. Chauhan personally chaired the session and stayed for the entire program of two hours. Brig. Teg Bahadur Kapur (Rtd.) got out of a hospital bed to read excerpts of a speech by the UPF Founder, Dr. Moon. Amb. K.V. Rajan, the Executive Vice-Chairman of UPF-India, postponed a meeting with the Security Council of the Government of India to attend the function at Amity. He bore witness to the sacrificial lifestyle and the sincerely needed vision of Father and Mother Moon, who emphasize the family as the model and womb of world peace.

Any anxiety about the genuine inter-religious nature of UPF-India vanished like the morning dew. At the conclusion of the program Dr. Chauhan wrote a personal note to the National Director of UPF-India saying, "Dr. [Robert] Kittel, I have come to know you very recently, but already I feel highly proud of you."