Guatemala
December 13, 2006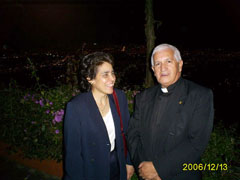 Mrs. Maria Luisa Vargas, International Peace Ambassador currently with ACLC and the United Nations and
Father Pedro Contreras, International Peace Ambassador and Pastor for St. Jude Thaddeus Church in the United States
Santiago Atitlan
Escuela Bilingue Santiaguito
Mrs. Maria Luisa Vargas, International Peace Ambassador currently working with ACLC and the UN, traveled to "Santiaguito", a Family Federation owned school located at the shores of the famous Lake Atitlan, in the beautiful countryside of Guatemala where she was welcomed by Mr. Gaspar Reanda, Principal Santiaguito School.
Before the event Mrs. Vargas had the chance to tour the school site, the school buildings, gardens, and especially admiring the natural beauty of Santiago.
The event commenced with a prayer from Mr. Pedro Pablo, Parent who has shown much interest in many of the school's projects.
Professor Manuel Sisay Sapalu, former mayor of Santiago and local Peace Ambassadors, gave the welcoming remarks and Professor Juan Tiney, together with Mrs. Ana Villafuerte, presided over the holy ceremonies.
Mrs. Vargas enthusiastically bestowed the keynote address; with much heart she captivated the audience. She along with Professor Manuel Sapalu, appointed five new Ambassadors for Peace. The event closed with three great and inspiring cheers of Ok-Mansei. All event participants were invited to enjoy some coffee and refreshments.
Asociacion Pro Paz Guatemala
Universal Peace Federation
On December 13th 2006 the Peace Embassy of Guatemala hosted two International Peace Ambassadors who shared True Father's peace message with the 75 attendees. Guests were welcomed with live music from Mr. Fito Alegria, a Martial Arts Instructor for Japan Karate-Do.
The program started out with a blessing prayer by Mr. Desidoro Veliz, a Christian religious leader and business man and welcoming words from Mr. Mario Marroquin, a local Ambassador for Peace. We then gave welcome to Father Pedro Contreras, International Peace Ambassador and pastor for St. Jude Thaddeus in the United States, to read True Father's speech.
Mr. Sung Hwa Bessell and Mrs. Jeanne-Valerie Bessell with one representative couple on stage guided the audience in the Holy Burning Ceremony, Holy Wine Ceremony, and Holy Water Ceremony followed by the blessing vows and declaration. All ceremonies were offered to God with a prayer. Father Contreras appointed six new Ambassadors for Peace. As a symbol of victory Mrs. Jeanne-Valerie Bessell led everyone in three shouts of Ok-Mansei' (eternity).
Everyone was invited for refreshments, during this time people had the chance to talk to the international Ambassadors for Peace, enjoy the entertainment, and appreciate the different displays of projects throughout Guatemala.