NEPAL
Dr. Robert Kittel
September 22, 2006
An official invitation to Nepal was issued to Mrs. Hak Ja Han Moon and her family by the Rt. Hon. Subash Nembang, Speaker of the House of Representatives and chairperson of the National Preparatory Committee. Twelve venues were arranged for the World Peace Tour on September 22, 2006.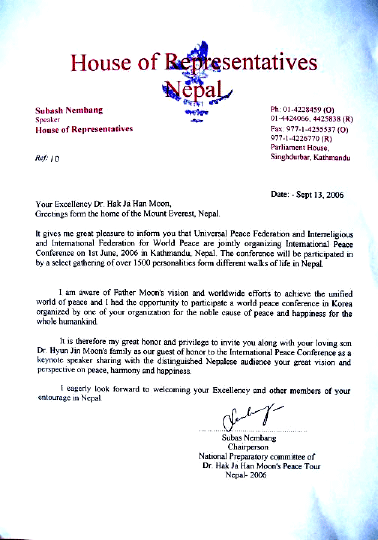 Hon. Chitralekha Yadav, Deputy Speaker of the House of representatives, and Mrs. Narmada Ranabhat, wife of Former Speaker of the House of Representatives, received Mother Moon at the Tribhuvan International Airport in Kathmandu. Fifteen different "welcome gates" were prepared to welcome Mother Moon and her family to Nepal. Ten thousand young people lined the streets to greet the guests.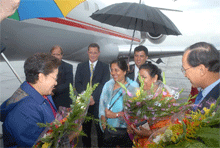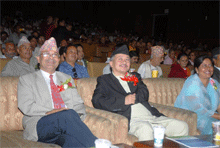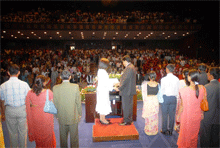 Birendra International Convention Center, Kathmandu
Famous Nepalese singer Mr. Sishir Yogi opened the program for Mother Moon at the Birendra International Convention Center in Kathmandu. Dr. Christopher B. W. Kim, Continental Chairperson of UPF-Asia, delivered the Chairman's Address. Mr. Durga Nath Sharma, Former Director General of Nepal TV, translated her speech into Nepali for a live nationwide telecast. Distinguished guests included Hon. Madhav Kumar Nepal, Former Deputy Prime Minister, as well as Buddhist monks. UPF national leader, Rev. Ek Nath Dhakal and his wife, Mrs. Blessie G. Dhakal, officiated at the marriage blessing ceremony. Ambassador K. V. Rajan, former Indian Ambassador to Nepal, gave heartfelt closing remarks. Dr. Robert S. Kittel served as Master of Ceremonies.
Chamber of Commerce, Pokhara
The second venue was the Pokhara Chamber of Commerce. Prof. Ganesh Bahadur Gurung, chairperson of that event, and Mr. Ramchandra Devkota, the venue coordinator, welcomed Mr. In Sup Pak at the Pokhara Airport. There were 600 guests at the event.
B.P. Koirala Memorial Cancer Hospital, Chitwan City
Five hundred people filled the auditorium of the B.P. Koirala Memorial Cancer Hospital in Chitwan City to listen to Mr. Seo Young Ju read the Founder's Address. Hon. Maiya Devi Shrestha, Member of National Assembly, served as Chairperson, and Mrs. Gayatri Shrestha, Ambassador for Peace, read the Chairman's Address.
Hotel de l'Annapurna, Kathmandu
Dr. Chuda Bahadur Shrestha welcomed Mr. Shin Bok Hong to the Hotel de l'Annapurna in Kathmandu, where he spoke before an audience of 500 people. Hon. Dilendra Prasad Badu, State Minister for Information and Communication, presented a gift to him. Seven prominent leaders received Ambassador for Peace certificates.
Budhanilkantha School, Kathmandu
Ms. Yeon Sun Yu was the featured speaker for an audience of 700 at the Budhanilkantha School in Kathmandu. The Chairman's Address was delivered by former congressman Hon. Diwakar Sharma. Hon. Ram Prit Paswan, Vice Chairman of the National Assembly, presided, and Mr. Narayan Prasad Sharma, principal of the school, delivered the closing remarks.
Malla Hotel, Kathmandu
At the Malla Hotel in Kathmandu, Prof. Dr. Tulsi Pathak, delivered the welcome remarks. After Ms. Jin Hwa Yoshida delivered the Founder's Address to the audience of 400, Prof. Dr. Ananda Sobha Tamrakar presented her with a bouquet. Hon. Pradeep Gyawali, Minister of Tourism and Civil Aviation, joined Ms. Yoshida in presenting Ambassador for Peace certificates to seven guests. Mr. Dhruba Prasad Lamichhane and his wife Mrs. Neceline Lamichhane served as a blessing officiators.
Hyatt Regency Hotel, Kathmandu
At the Hyatt Regency Hotel, Ms. Shiori Kunitoki spoke to the audience of 500 dignitaries. Mr. Bishwo Prakash Sharma introduced Hon. Ramesh Lekhak, Minister of Labor and Transportation, who gave the welcome remarks. Mr. Rabindra Panta, SAARC Secretariat officer, served as a Master of Ceremonies.
St. Xavier's School, Lalitpur
Mr. Young Jun Kim spoke to an audience of 600 people at St. Xavier's School in Lalitpur. Hon. Tanka Rai, Member of the Parliament, gave the welcome remarks, and Dr. Muniraj Chhetri delivered the Chairman's Address. Ambassador for Peace awards were presented to Rev. Bill Robinson and Prof. Dr. Bihari Binod Pokharel.
Ashok Hall, Patan City
At Ashok Hall in Patan City, Lalitpur, the Newari cultural group presented a Newari dance. Dr. Kamal Krishna Joshi, President of the University Grant Commission gave the Chairman's Address; Mr. Ram Hari Giri was the venue coordinator. Mr. Shin Il Moon spoke to an audience of 900 and afterwards presented an Ambassador for Peace certificate to Yubaraj Thapa, founder and principal of the Samakhushi English school. Mr. Krishna Ram Amatya and Mrs. Bhadri Shyama Amatya, officiated at the Blessing Program, Mrs. Amatra, Principal of the Tri-Ratna Cooperative School, delivered the closing remarks.
Peace Embassy, Naxal
At the Peace Embassy Building in Naxal, Kathmandu, Mr. Jeong Woo Hwang addressed 300 guests. Former government minister Hon. Kehave Badal, delivered welcoming remarks. Dr. Purushottam Adhikari offered a bouquet to Mr. Hwang, and Mr. Shankar Prasad Paudel gave the closing remarks. Dr. Mukunda Gajurel delivered the Chairman's Address. Mr. Deepak Raj Ghimire and his wife, Mrs. Durga Ghimire, served as a Blessing officiators.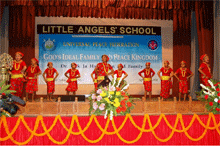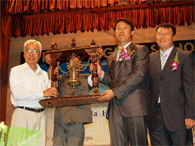 Little Angels' School, Hattiban
At the Little Angels' School in Hattiban, Lalitpur City, Hon. Prabhu Narayan Chaudhari, Minister of Land Reform and Management, presided, and. Mr. Krishna Prasad Dhakal delivered the welcome speech. Prof. Harsha Narayan Dhaubadel, former Nepalese Ambassador to India, presented a gift to Mr. Sung Yong Jang, who addressed the 600 guests as a representative of the True Family. The audience included Mr. Rajesh Shrestha, Vice Principal of Little Angels' School, and the students presented a Nepali folk dance.
Dhulikhel Lodge Resort, Dhulikhel City
The final venue was Dhulikhel Lodge Resort in Dhulikhel City, Kavre. Rev. Jin Woo Lim delivered the speech to an audience of 400. Brahma Kumari of a spiritual awareness group gave him a gift of a picture of a Hindu goddess. Hon. Gyanendra Bahadur Karki, Minister for Water Resources, delivered the inauguration remarks. Mr. and Mrs. Daya Ram Kandel officiated at the blessing.
The following day, Mr. Shiva Chandra Neupane translated for Mother Moon as she spoke at morning devotions to 700 people. The Sun-Hak Children's Choir performed a song for the victory celebration.