AUSTRALIA
Enrique Ledesma and Rick McInerheney
September 28, 2006
| | | |
| --- | --- | --- |
| Sydney | | Dr. Hak Ja Han Mother |
| Bankstown | | Ms. Shin Sook Moon |
| Strathfield/Burwood | | Ms. Shiori Kunitoki |
| Fairfield | | Mr. Shin Il Moon |
| Blacktown | | Ms. Shin Mi Moon |
| Canberra | | Mr. In Sup Park |
| Brisbane | | Mr. Shin Bok Hong |
| Gold Coast | | Mr. Youngjun Kim |
| Melbourne | | Mr. Kook Jin Moon |
| Werribee | | Mr. Hirotaka Otsuka |
| Albury | | Ms. Jin Hwa Yoshida |
| Adelaide | | Mr. Hyung Jin Lee |
Sydney Event
Speaker: Dr. Hak Ja Han Moon
Venue: Oceania Peace Embassy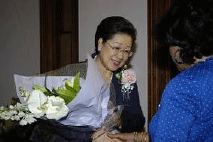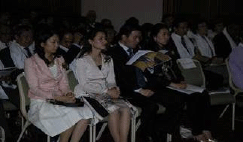 With so many events scheduled in Sydney during the day of the 28th September, it was a challenge to bring a big crowd to the Peace Embassy for the finale with True Mother in the evening. Many loyal Peace Ambassadors were very involved in the daytime events. When the event started, the main hall of the Peace Embassy was full of people and buzzing with anticipation.
Emcee Tracy De Geer welcomed the audience and introduced AFP and Methodist minister Rev. Christopher Dass, who opened the event with a heartfelt prayer. Entertainment was provided by the UPF Australia Sun Hak Youth Choir in their first official performance. They sang "We Are Australian," delighting the audience with their youthfulness and lovely rendition of the well-known Australian ballad. After Rev. Enrique Ledesma gave a short PowerPoint presentation introducing UPF, and the Hon. David Clarke welcomed the True Family and commended the work of True Parents and UPF to promote family values. The atmosphere mounted the Chairman's address was read and the video was shown.
Then the moment arrived. True Mother entered the room to a standing ovation. She had to ask the enthusiastic crowd to sit down three times, but no one wanted to stop their applause. It was a beautiful moment that neither True Mother nor any of us will ever forget.
The Ambassadors for Peace applauded often during the speech. She smiled and seemed pleasantly surprised, and continued to deliver a speech full of charm, warmth and dignity. True Mother was radiant as flowers and a beautiful framed picture of Sydney Harbour were presented by the Ambassadors for Peace. It was a sign of things to come.
After the event was over Mother said she wanted to take a walk. They walked 40 minutes down to the Sydney Opera house with the True Family members holding hands and smiling.
She was in jubilant spirits and not tired at all as she heard reports about her son Kook Jin, who was received by 240 people in Melbourne. In fact, all events from, Brisbane, Gold Coast, Adelaide, Werribee, Albury, Canberra and the five places in Sydney were successful in many ways.
Bankstown Event
Speaker: Shin Sook Moon
Venue: Melkite Catholic Church
Emcee: Rick McInerheney

The audience were very attentive during Shin Sook's beautiful presentation of the speech. The Mayor of Bankstown, of Russian descent, was visibly moved with the message, as were many others. The bulk of the audience came from communities that have suffered war in recent times, and they appreciate the work of True Parents. Members of the Melkite Catholic Church, whose elegant function room was a warm environment for the meeting, were well represented.
Dr. Abraham Constantin described Rev. and Mrs. Moon as the King and Queen of Peace. He and Imam Jasmin Bekric recently returned from the UPF Assembly in Korea and praised True Parents' work promoting interreligious and cultural dialogue and reconciliation.
Deputy Mayor Le Lam said she is from a refugee background (China) and believes that UPF is much needed in her electorate. Councilor Jack Au said he was attracted to UPF because he felt it was providing an essential need in the world of bringing all religions together.
Strathfield/Burwood Event
Speaker: Shiori Kunitoki
Venue: Woodstock Community Centre
Event Coordinator: Mark Burfield
The Woodstock Community Centre provided a warm family atmosphere for the successful event in Burwood. Shiori Kunitki gave a gracious yet incisive presentation of Father Moon's speech to an attentive and supportive audience, and a high spirit of good will pervaded. She was generous with her time afterwards with the members and families. The audience included Ambassadors for Peace, WFWP members, families, students, and friends. Good teamwork ensured that the event was conducted with dignity and integrity.
Fairfield Event
Speaker: Shin Il Moon
Venue: Assyrian Club

Three families prepared the venue for Shin Il, and on his arrival Shin Il expressed his gratitude for everyone's hard work and understanding of how difficult it must have been with such short notice to arrange so many events.
Dr. Al Jabiri and Emmanuel Michael, both Ambassadors for Peace, warmly welcomed Shin Il to the Assyrian Club. Clutching a bottle of water, he insisted that he needed nothing special, that the water was enough. Nevertheless, he was offered lunch from the buffet that had been prepared for the event. Jago Gavin, Masaya Okada and Damon, a young Korean, joined him for lunch. Shin Il spoke very frankly about his life and his struggles on the gruelling nature of this trip but how he had overcome them. He also expressed interest in each person with him, including the young women who served his table. People were humbled by his humility and humanity.
Guests included Rev. Benyamin, who gave the invocation, and Dr. Shaba Hurmiz, who came with two children and four grandchildren. There were 21 Ambassadors for Peace together with relatives and friends. To hear this young man offer this speech referring to "my grandpa" in places where True Mother refers to "my husband" was very moving. It seemed to give the speech so much more substance and power, having a member of the True Family's third generation deliver it.
The audience could sense a serious attitude in listening to the speech; everyone seemed captivated by the content. Shin Il wanted to see native Australian animals, so Jago escorted him to the nearby Featherdale Wildlife Park in Blacktown. Organizers were sorry to have to wave him goodbye after such a short but heartfelt visit.
All guests were grateful to have been invited to such an important event. One person expressed regret that he did not invite any guests, as he did not realize earlier that it was such an important occasion.
Blacktown Event
Speaker: Shin Mi Moon
Venue: Blacktown Workers Club
Event coordinator John Von Dinklage

The Blacktown Workers Club in the multicultural west side of Sydney was the venue for the address on "God's Ideal Family and Peace Kingdom." Three volunteers from Japan gave excellent support by coming a week before the event. They helped with leafleting and visiting local leaders and people with invitations. Mrs. Mamiko Rattley was the outreach leader and worked hard to visit community leaders.
The program began with opening remarks from emcee John Von Dinklage. A beautiful song was presented by three people from the Solomon Islands and Papua New Guinea, followed by a multifaith invocation from Rev. Tolorosa Taulaga, a Cook Island leader. Then Ambassador for Peace Dr. Samir Hanna spoke about the work of the Universal Peace Federation around the world and encouraged everyone to find out more.
As Shin Mi came up, the audience immediately felt how special she was and soon witnessed her love for True Parents and sincere desire to representative them well in conveying this providential address. Shin Mi spoke in almost perfect English, but more than that, people sensed her heart reaching out to them with every word she spoke. Afterwards, guests expressed appreciation for her confident delivery. Rounds of applause came from the audience up to the end, and she responded with beautiful smiles and a special poise and grace.
The guests, including a mother and her four young children, sat attentively and absorbed the words, as did other guests. Ambassadors for Peace were impressed by this beautiful granddaughter of True Parents carrying the baton with such deep conviction!
Canberra Event
Speaker: In Sup Pak
Venue: Pavilion Hotel
Event Coordinator: Greg Stone

Canberra is the National Capital of Australia and it is growing rapidly. It contains the embassies of around 70 nations. It is the seat of the Federal Government as well as the ACT government, academic institutions, key government departments, Australia's pre-eminent military academy, and a very rich, active and diverse multicultural population. The people of Canberra are generally well educated and well informed. Being the national capital, Canberra is very influential in determining the direction of the nation.
The staff consisted of Greg and Reiko Stone coordinating, with Mark and Cathy Rauch assisting in many ways especially with contacting and follow-up. George Lemon played a vital role as Ambassador for Peace. His many contacts and knowledge of the local terrain proved invaluable. Keiko Hasagawa and Isoko Oda came from Japan to bring support, along with Solomon Islands sisters Dylis and Corine.
Many community leaders attended from a variety of organizations. Mrs. Matilda House, a respected Aboriginal Elder of the Nungawal people, gave an official welcome to country, and Mr. Steve Doszpot, Liberal candidate for the ACT Legislative Assembly, gave welcoming remarks; he especially emphasized the work UPF is doing in the arena of using sports for promoting peace.
There was a very friendly and attentive spirit throughout the proceedings. After the event several people came up and genuinely want to get involved in UPF. Work done on the campus indicates prospects for future outreach to the diverse student population at the Australian National University and Canberra University.
Melbourne Event
Speaker: Kook Jin Moon
Venue: Victorian Arts Centre
Event Coordinators: Rev. Ian Darbishire and Irene Anania

The Melbourne Arts Centre provided the perfect setting for the first visit of True Family to Melbourne. The beautiful sounds of Lucy Versteegen playing the grand piano attracted Kook Jin's attention as he entered the foyer and he graciously commented on her skilful performance. Guests were arriving as performers were tuning their instruments and staff carrying out their work. The event was in good hands.
Theh program opened with an Aboriginal welcoming ceremony. Joy Murphy, AO (Order of Australia), is an honorary professor at Swinburne University of Technology and an Ambassador for Peace. As an Aboriginal Elder, she performed a spiritual clearing in the room with a burning ceremony of their own and formally welcomed the international visitor on behalf of the Aboriginal people of Australia. In this capacity Joy has also welcomed to Australia dignitaries such as Mr. Nelson Mandela of South Africa, HRH Queen Elizabeth II, and other members of the Royal family visiting the country.
The sounds of the didgeridoo gave way to traditional Korean music, and a magical Korean dance unfolded. An invocation by a Sri Lankan Buddhist monk was followed by the prayer of blessing of marriage.
By the time Kook Jin entered, the audience was well charged. Everyone followed the reading attentively in their booklets, and the final round of applause was hearty.
Ambassador for Peace Sylvia Ericsson and Tim Wright presented Kook Jin with flowers and a gift and lingered to give him a few heartfelt words of welcome and appreciation. Kook Jin's face lit up broadly and spontaneously.
Twenty-one new Ambassadors for Peace were appointed, and additional people filled out application forms. Comments like "we need to be involved with you and work together" were heard throughout the evening. People wanted to know about the True Family, about our various projects.
The Aborigines were grateful to be acknowledged and felt honored by Father's work for indigenous and islander people. An hour and a half after Kook Jin's departure, guests were still lingering around the now empty platters discussing the next meeting, planning, networking, and expressing their gratitude and enthusiasm.
Werribee Event
Speaker: Hirotaka Otsuka
Venue: Wyndham Park Leisure Centre

The event was held from 2 pm to 4 pm at the Wyndham Leisure & Events Centre in Werribee. Four families from Geelong, Melton, Werribee and Elwood, three islander brothers and a Japanese volunteer mailed invitations, put flyers in letterboxes and handed them out on the streets, visited interfaith groups, sent emails, and made telephone calls. Forty guests attended.
Mr. Hirotaka Otsuka spoke as the representative of the True Parents. He spoke with a deep heart and great dignity. He was a gracious and enthusiastic guest who was able to put people at ease straight away. He loved the beauty and surroundings of the hotel, visited the Werribee Park Zoo before the event, and later traveled to Melbourne to support Kook Jin.
Adelaide Event
Speaker: Hyung Jin Lee
Venue: West Torrens Auditorium

| | |
| --- | --- |
| Hyung Jin Lee and Hon Peter Lewis. | Joo Yung Roberts received his "Youth Ambassador for Peace" award from Hyung Jin Lee. |
Sheik Sulaiman Noureddine of Adelaide's Islamic Arabic Centre offered an invocation, emphasizing the need for interreligious understanding and co-operation and calling God to be present at this historic meeting.
Former Speaker of the South Australian Parliament, Hon Peter Lewis, welcomed Mr. Lee to Adelaide with a reference to Moses and the Israelites having to spend 40 years in the wilderness because they would not follow the heavenly directions that had been laid out for them.
Hyung Jin, a Korea University law graduate, held back tears in the opening paragraphs of his grand-father-in-law's sermon referring to his six imprisonments.
Seven "unsung community heroes" received Ambassador for Peace Awards at the Adelaide event. This included a delightful double act of current undefeated state and national featherweight Taekwondo champion, Shane Whiteway (age 26) and his student, Joo Yung Roberts (age 12).
Albury Event
Speaker: Ms. Jin Hwa Yoshida
Venue: Sundowner Hotel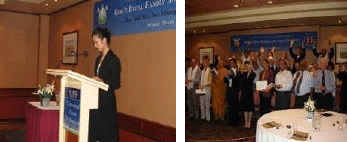 Jin Hwa Yoshida brought a gracious presence to the Sundowner Hotel in Albury. Afterwards, the newly elected Mayor of Albury responded with appreciation that an event related to world peace could be held in Albury. Another person called with congratulating on such a marvelous event and statement how honored he and his wife were to receive the blessing and be inaugurated as Ambassadors for Peace.
Brisbane Event
Speaker: Shin Bok Hong
Venue: Logan Entertainment Centre
Emcee: Kim Raymond
&
Gold Coast Event
Speaker: Youngjun Kim
Venue: Conrad Jupiter's Casino
Emcee: Kim Raymond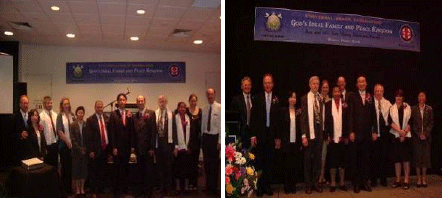 In Brisbane we held a dinner event at the Logan Entertainment Centre and on the Gold Coast we held a lunch event at Conrad Jupiter's The Pavilion Rooms
At the Gold Coast event all the guest were moved by the spirit. We gave out free tickets with the words "donation gratefully accepted" printed on them. At the donation box, one woman took one note after another out of her wallet until there were no notes left. She explained that she was so inspired and wants to read this speech every day.
At Brisbane the mayor of Logan described his life story of his 14 years of life in an orphanage and how conviction that peace truly comes form the mixing of cultures and races. He graciously accepted the Ambassador for Peace award and stated of all the awards and certificates he had received he valued this award the most.
The venues and presentation were at a level similar to one True Parent's visits, except on smaller scale. Both meetings benefited from the popular classical pianist Lance Clarke playing 'The Blue Danube' and 'Jesu Joy of Man's Desiring.'
The older children of the blessed families added much to the 'character' of the ceremonials and made things run smoothly. Rachel and Kalida in white dresses assisted with the blessing; Tim and Joshua Eichler did photography and video; Ray and Jacob Newman, Jongsil and others passed out holy wine; and David and Ivanilsa Eichler were the officiators of the Blessing.
Trevor Newman read Dr. Kwak's speech at both events with the dignity of an experienced orator. After the DVD was shown, and the guest speaker(s) introduced, everyone paid close attention to them. Youngjun Kim spoke at the Gold Coast event with a measured, clearly understandable pace. At Logan City, Shin Bok Hong's well-read speech was received with enthusiasm. Cnr Graham Able, mayor of the City of Logan, was keen to shake hands with him afterwards.
- - -
Report complied and prepared by Enrique Ledesma (Secretary General, UPF Oceania) and Rick McInerheney (Chairman, UPF Australia) with appreciation to John Adamedes, Joshua McInerheney, and John Von Dinklage for their technical support.